2022 CSA Applications Now Available
Dec. 5, 2021:
We are now accepting applications for the 2022 season! Please email the farm at cherrygroveorganic@gmail.com for an application.
Farm Update
May 4, 2020:
CSA - COMMUNITY Supported Agriculture: We want to start by thanking all of you, OUR COMMUNITY, for all of your support over the years and especially this season, which has already proven to exemplify CSA at its finest!!! We greatly appreciate everyone who has joined this season and reached out to us to offer support! And we greatly appreciate our hard working crew that we get to spend our days with! By us all working together as a COMMUNITY this year we will be able to continue to achieve our goal of providing local, organic produce to our members and customers, as well as local food banks!
Barn Market CSA at the farm: At this time we are following our normal seeding and planting schedule-the greenhouses are full of transplants and the peas, beets, garlic, kale, onions, leeks, potatoes, arugula, and salad mix are already in the ground! The weather has been cool, wet so we are anticipating opening the first week of June.
We will be offering two options to our members:
1) We will be offering a choice of a weekly Harvest Box that will include a variety of that week's peak crops. We will likely have more than one choice available and we will include the choices along with the value ($) amount for that box in our weekly e-mail that goes out on Sunday nights. If you chose one (or more) of the Harvest Box(es) for that week that dollar amount will be deducted from you account. You do not need to sign up for a Harvest Box-they will simply be available in the barn and will be deducted from your account when you come in.
2) We will also be offering the option of "shopping" in the barn. However, the following guideline will be followed strictly:
Only one member will be allowed in the barn at a time- only our staff will be allowed to handle the produce, so you will shop individually with our staff selecting what you want. We will have another staff member available at our "check out" where we deduct the amount from you account.
Sign-up genius: At this time, our hours will be on Tuesdays and Thursdays from 12:30- 7 PM. The 12:30-1PM slot is reserved for anyone who is elderly or medically compromised (if this doesn't meet your need, please contact us if you need us to make any alternative arrangements to ensure we are safely getting the produce to you).
In an effort to not have anyone standing for a long amount of time outside of the barn, we will be sending out a sign-up genius on Sunday evenings so that you can sign up for an hourly time slot. We wanted to try this instead of giving people times based on the first letter of their last name! You can come to the farm anytime during that hour. Please know that this is not something that we are going to strictly enforce- it is more meant as a guide to really benefit you! If everyone signs up and works together as a COMMUNITY, you can readily see what times have more people signed up and have the option ahead of time of choosing another time to help spread out everyone's time and wait at the farm! We will evaluate how this plays out each week and can adjust as needed.
The Safety of our COMMUNITY is our highest priority: *Please do not come to the farm if you are feeling sick or ill. *Keep a safe distance of 6 feet between everyone when you are at the farm. *Only one family member allowed in the barn at a time. * Face masks (or other coverings) over the nose and mouth are required. * We have increased protocols in place for our staff related to hand washing and wearing gloves. *We have increased protocols in place related to the sanitizing of frequently touched surfaces at the farm (i.e. tables, scales, sinks, crates, flats, cooler, etc.). *For non members and market customers: consider the use of cash alternatives like a credit card. Also, we will soon have a system in place to process credit cards as well as place pre-order Harvest Boxes for pick-up at our farmers' markets.
Giving back to our larger COMMUNITY: In addition to providing local, organic produce to all of our members and customers, it is really because of YOU and your support of the farm each year that allows all of us together to give back to our larger COMMUNITY! And this makes us very happy! For many years, we have taken the steps to ensure that overflow produce we have throughout the season goes to many local service organizations: The Princeton Cornerstone Community Kitchen, The Trenton Area Soup Kitchen, Mercer Street Friends, Send Hunger Packing, and the Summit GIFT table- during these especially challenging times, we want to continue to ensure that local, organic produce is more accessible to everyone.
Protocols for our Markets: We are taking steps now to have an online business in place where customers can place pre-orders!
Summit Farmers' Market: The Summit Farmers' Market is encouraging pre-orders of our weekly Harvest Box(es) , but also allowing people to come and shop for what they want following these protocols: https://www.summitdowntown.org/events/farmers-market/
For Summit customers who can readily get to Scotch Plains on a Saturday, you may want to consider that as a pick-up option, as well!
Scotch Plains Farmers' Market: The Scotch Plains Farmers' Market, no opening date approved yet, anticipates allowing pre-orders of our Havest Box (es) only and then customers (at predetermined times) would drive through the market and pick-up at each vendor.
Princeton Farmers's Market: Will update as things unfold! https://www.princetonfarmersmarket.com/
In Closing: We are reaching out to everyone now to give you a sense of what we are anticipating at the start of the season. Hopefully, we have answered some of your questions! It is still @ 4 weeks until we "open" for the season and the situation, as you know, changes daily. It will also likely continue to evolve and hopefully stabilize as the season unfolds! So you may start by choosing a weekly Harvest Box (es) and then shift to shopping for what you want as the situation allows. We will be sure to keep you posted!
Please reach out to us with any questions you may have or feedback as the season unfolds! Lastly, we feel very fortunate- we could not ask for a better COMMUNITY to support what we do and to work with as we all find out what the 2020 season has in store for us!
We are thinking of all of you!
Matt and all the crew at Cherry Grove Organic Farm
FYI CAN COVID-19 BE TRANSMITTED BY HANDLING OR CONSUMING FOOD? There are no documented cases of COVID-19 transmission from food. * CDC COVID-19FAQs state "Currently there is no evidence to support transmission of COVID-19 associated with food. * FDA (US Food & Drug Administration website states: "Currently there is no evidence of food or food packaging being associated with transmission of COVID-19."
---
A message about COVID-19
March 19, 2020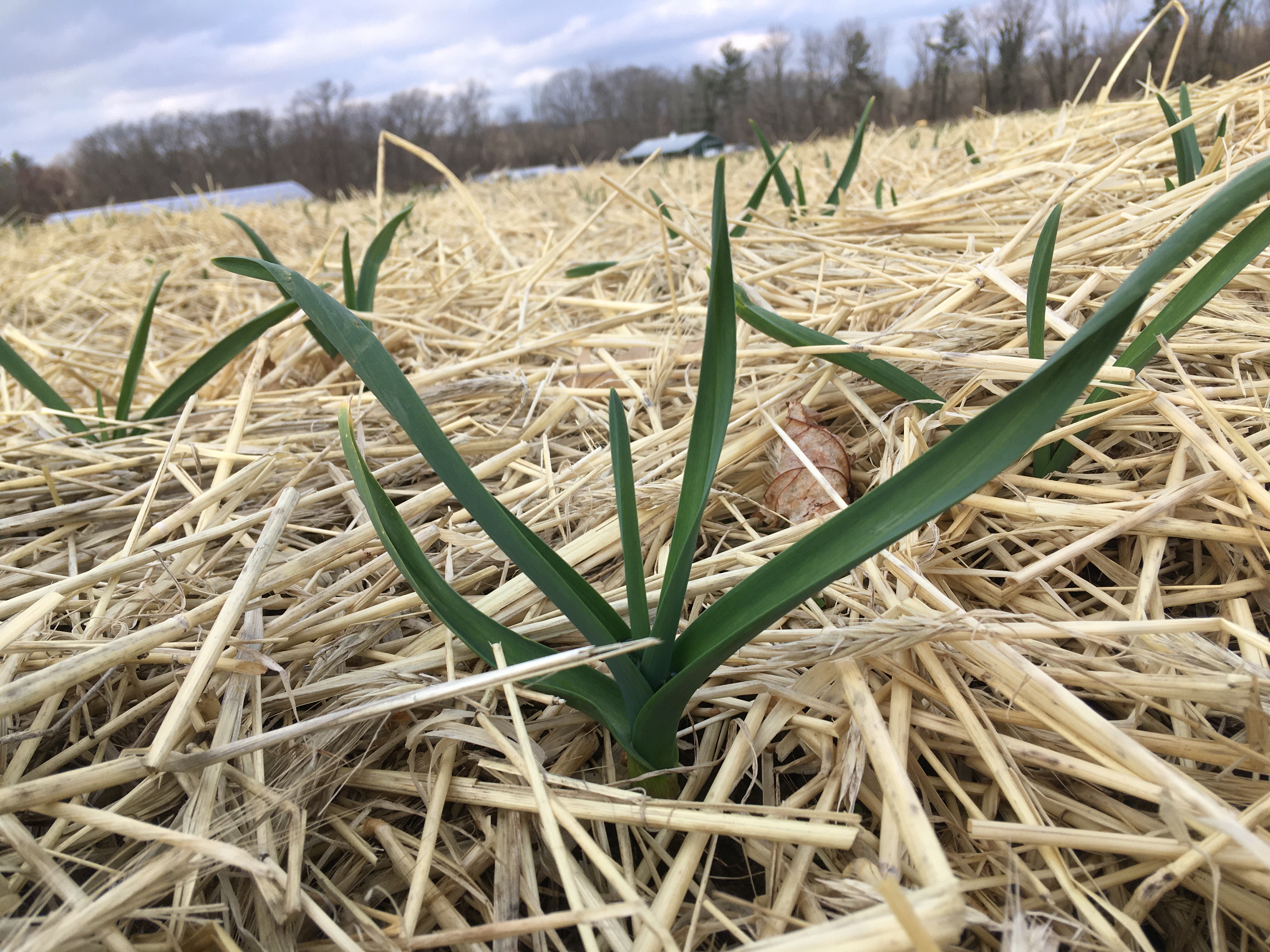 As we walked around the farm yesterday we were inspired by our garlic! Underground all winter long, it has emerged and each day, focused and steady, it continues to do what it needs to do to reach its ultimate goal.
It is our goal this coming season to continue to provide the community with safe, nutritious, healthy food. As we continue to get daily updates related to Covid-19, we will remain focused and steady on our goal and do what we need to do to implement the necessary protocols (many of which we have implemented for 18 years) to ensure the safety of our produce for our customers and getting it to our customers! Everyone's health and safety is our number one priority!
We having an amazing crew this year and remain hopeful! As always and despite Covid-19 we are ready for all that the 2020 season has in store for us- we embrace the opportunities it provides for us to connect and work with others in our local and larger community to meet our goal(s), but also be there to assist others in need!
Thinking of all of you today and we hope you are all well!
We will keep you posted on the farm...
Matt and all the crew at Cherry Grove Organic Farm